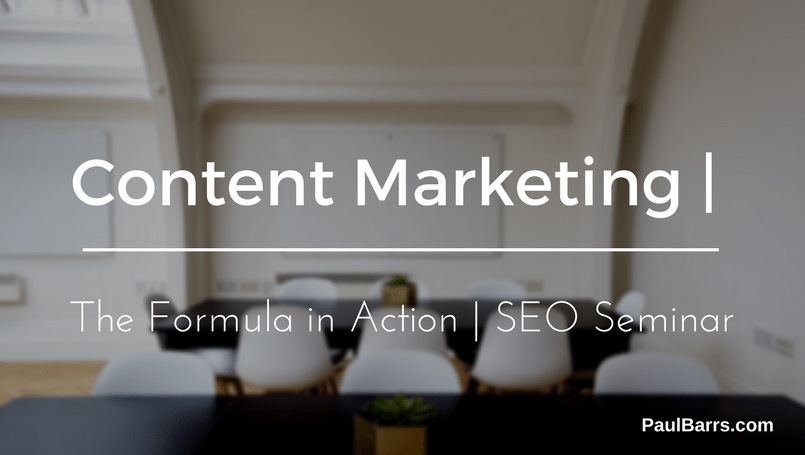 14 Apr

Content Marketing | The Formula in Action | SEO Seminar

"Never Create Content For Just One Purpose". That's what I teach in my seminars and workshops. Let me explain…

Share This Video with your Friends

This month we're talking about content. How we can create content from all different places, talking about the ideas where we get things from, talking about the way in which we produce it.

Well today I'm running a full day workshop on search engine optimization. What could I do with that? I've already preprepared a number of slides, a number of exercises, and different things for the students in the class today, so there's content that I can easily reuse.

Obviously, I'm not just going to take these videos and throw them back out. This is something which my clients invest quite a reasonable amount of money for.

But, I can look at repurposing that content in a number of different ways. I don't know. I think I've got maybe 40-something different slides that we'll being going through with the PowerPoint side of the presentation today. Perhaps, I can take sections of those, maybe two or three at a time and create some additional video just from that.

I know what I will be doing is I will be recording it as I go, which goes into my membership coaching site. Now of course, they pay even more that these people to be able to learn a whole range of different types of strategies and marketing tactics to grow their business. So, this content today will be repurposed into my mentoring membership site.

But, I can also look at breaking down sections of what I record on the video today and I can take just the audio and with that audio I can get transcripts and then I can go through and edit them and that becomes blog content or PDF content. I can look at the bullet points in various slides and create infographics out of that.

Do you see where I'm going with this?

When it comes to creating incredible content, for our websites, for our online business, it all begins in one place — the ideas that we have. Okay, that's obvious. Everyone has ideas, some good, some not quite so. So, assuming you have amazing ideas, what you then have to do is become creative in the delivery of those ideas. I could take the audio of this, for example, and make a podcast out of it. I could create a series and have a downloadable e-book. I think I've done 30-something of those over the last 10 or more years. These are ways of repurposing content.

Here's the philosophy. I'm going to leave you with this. It's really very simple.
Don't just create something for one use.
When you create one piece of content, make sure you have multiple delivery methods in mind. All right? Remember that. Don't just create something for one use, but when you create one piece of content, make sure you have multiple delivery methods in mind.
Repurpose it. Get it out there. Do it again and again and again.
Okay, that's enough for me for today. Looking out there, they're still on Daylight Savings Time down here, so I'm up like an hour earlier than I normally would be. I need to go and get myself ready and head out for the day. You have a fantastic week. I'll talk to you again next time. Bye-bye.