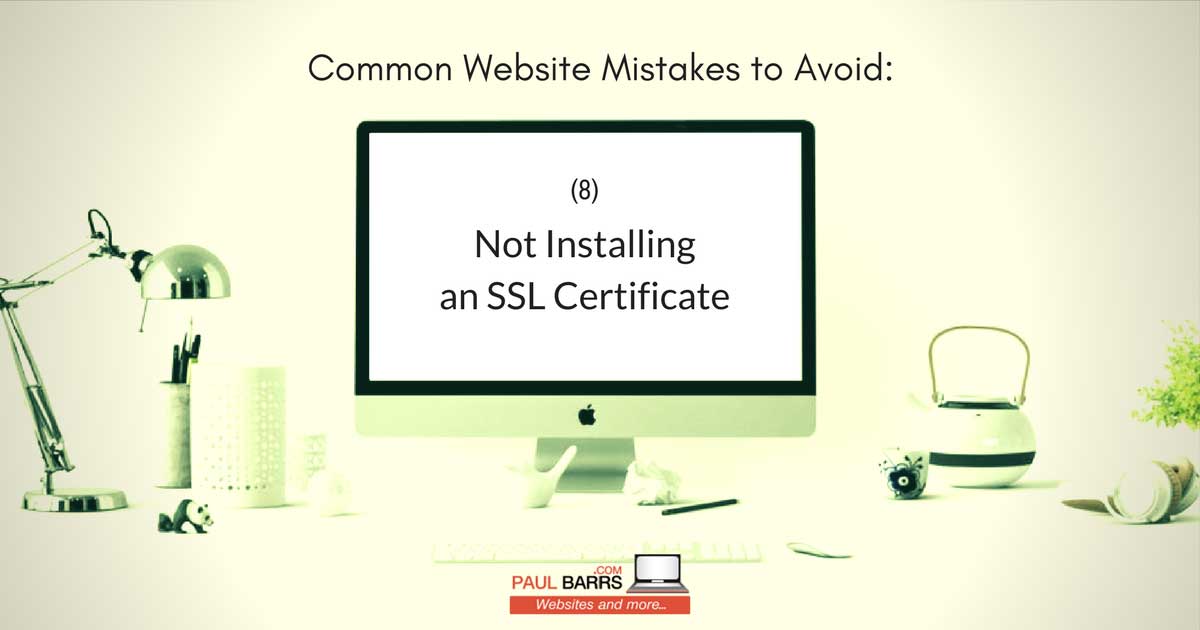 19 Feb

Common Website Mistakes #8 – Not Installing An SSL Certificate

There is a lot more to installing an SSL than just copying and pasting the certificate details.

Share This Video with your Friends

Hi there, folks. My name is Paul Barrs from paulbarrs.com. Welcome back to this series on simple and easily avoidable mistakes when it comes to the management of your website. Now in this particular video we're looking at the SSL, the security of your website. I'm not talking about hacker-proof security, I'm talking about SSL so it shows up as HTTPS for secure when someone types in your website address. And there are a couple of things for this. First of all, mouthful, first of all, you must upgrade to SSL. This month and next month I'll be in the process of contacting all of my customers and making sure that they are upgraded to SSL.

We are now starting to offer, when people renew their hosting, it's just included and we pay for it and we make sure it gets done. It is that important that we secure the data transfer between your website and your client's browser. Now here's the thing. That's the easily avoidable part. You just need to get an SSL certificate. But if you've read any of the other content on my website or watched any of the other videos I've recorded, you've also got to choose the right SSL certificate and install it correctly as well.

So simple rule of thumb, ask yourself what kind do you need? I'm going to say to you, number one, don't get the cheapest one you can find because often a shared SSL not quite the best advice.

Number two is, when you choose, should it just cover your top level domain, www.yourdomain.com, or should it cover your sub-domains such as leads.yourdomain.com or mail.yourdomain.com? What is it actually going to be covering, just the top level domain or the sub-domains as well, which is called a wild card SSL? If you have sub-domains, get the wild card. It's going to cost you more but absolutely worth it.

And then number two on this section is making sure it's installed correctly. There are a number of things that you can do, but just the simplest one is this. If someone types in www.yourdomain.com.au, perhaps here in Australia, and it just goes to the HTTP://, it doesn't automatically redirect to the HTTPS, then it hasn't been set up correctly. If when they type that in, they get through to the HTTPS and it's not showing the green padlock, then it hasn't been set up correctly. You need to make sure not only is your SSLs get installed correctly, but that your website is secured as well.

Okay, folks, this is an easily avoidable mistake. And maybe you don't have the technical ability to do it all, that's fine. Get a professional, but you at least must do it.

Okay, my name is Paul Barrs from paulbarrs.com. Thank you for listening. Got one, maybe two more videos in this series to go. I'll talk to you then. Bye-bye.