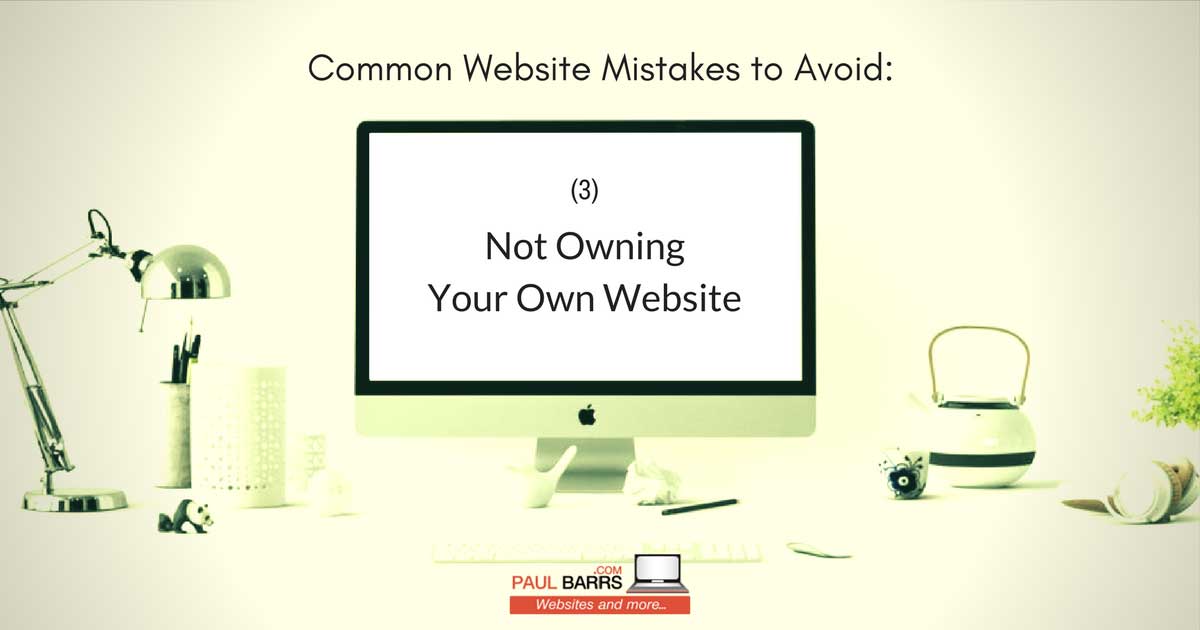 24 Oct

Common Website Mistakes #3 – Not Owning Your Website

There are many common mistakes made by small business owners online. #3 is that you may not even OWN your website!

Share This Video with your Friends

Hi there, folks. My name is Paul Barrs from paulbarrs.com. Hello and welcome. Thank you for taking the time to listen to this video. And we're doing a very short series on simple mistakes that you can easily avoid when it comes to the business side of your website, I should say the website side of your business, and that's what this particular video number three is all about.

Why would you build a website on a platform that you don't own? I'm going to say this very clearly, one time and one time only. For a business website, you should be hosting it yourself. I don't mean you having the server and owning, but you being in 100% control of the CMS that you use and where it's hosted. These are your choices.

There are many website platforms out there, which build good-looking websites and can get results. But here is the determination of the yay or nay when it comes to the successful utilization of this concept. If you decide to move your website, can you take it with you to a new hosting provider? If the answer to that question is no, then you're not getting it right. You do not have control, you do not own the rights to that website, despite the fact that you think you may.

So this is a question I need you to ask yourself, where is your website hosted at the moment? What kind of CMS are you running? Is it a custom content management system which is owned by the people who are also hosting that website? Because if it is, chances are, you can't take that with you. And from a business perspective, that is a terrible, terrible mistake.

Now here's the catch 22. It is often a lot cheaper, it is often a lot easier, it is often a lot faster to build a website on one of these custom CMS platforms, get everything up and running straight away, and then you're in business. Yeah, good. Well, perhaps for a new business, a brand new website, just getting started, okay, fair enough. You don't have the money to do it yourself.

But all the liabilities and the problems that you could potentially have in the future, this is what you have to weigh up. If you can't take it with you and start again, what happens if you go out of business? What happens if you have a disagreement? What happens if things go wrong? Do you have control of your backups? Can you start again somewhere else? That's the key and the message in this video. We're looking at simple things that you can do, that you can avoid when it comes to the managing of your website in your business.

That's video number three. I'll move on very shortly to the next. My name is Paul Barrs. Good talking to you. I'll talk to you again soon. Bye-bye.