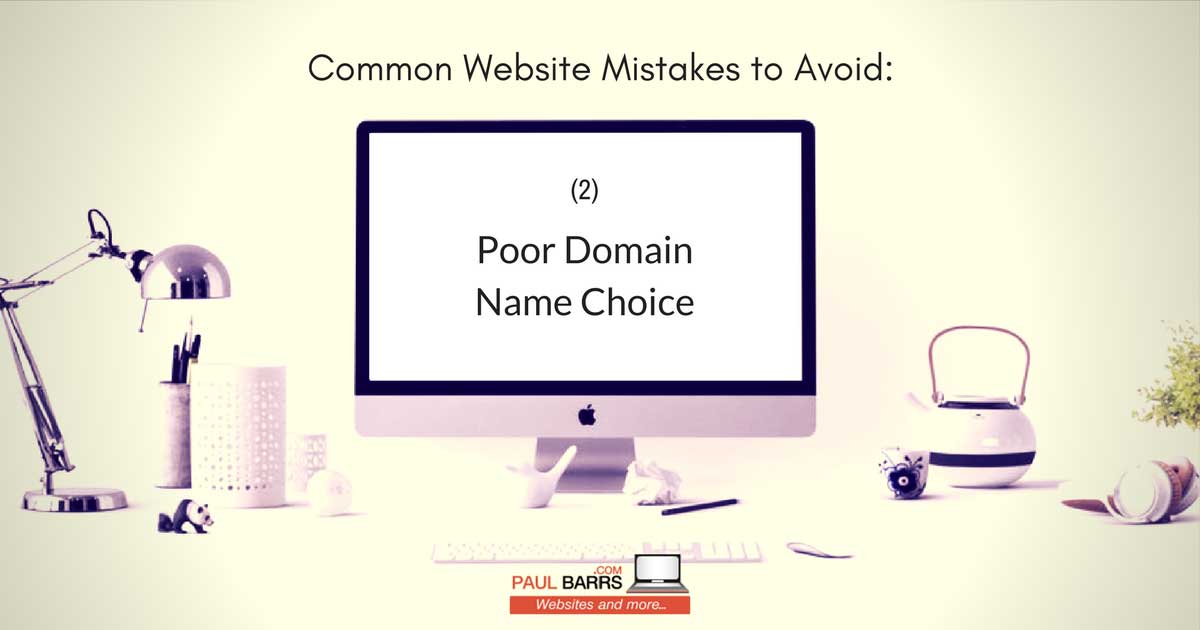 17 Oct

Common Website Mistakes #2 – Poor Domain Name Choice

There are many common mistakes made by small business owners online. #2 is poor choice of domain name. And if it's still not working, it's never too late to change!

Share This Video with your Friends

Hi there, folks. My name is Paul Barrs from paulbarrs.com. Hello and welcome. Thank you for taking the time to watch this video. Now in this particular series we're talking about simple mistakes which are easily avoidable when it comes to the managing of your website business.

Now mistake number two, really simply is this. Having a domain name that nobody can type and nobody can spell and nobody can remember. Oh my goodness, I know it might sound creative, I know you think it's wonderful and beautiful and all of that, but who cares what you think when it comes to your domain name.

It's all about your customer. Now I have a very simple rule, easy to type, easy to spell, easy to remember. They are the key essential elements for a good domain name. And yes, if you can have something related to your, what you do, your topic, your keywords, your location, great. But they're not one, two, or three. They come into four and into five, keywords included, location included. Not so important as easy to type, easy to spell, easy to remember.

Here's the thing. Most sales are not made on the very first visit to a website, they're just not. They're made through the remarketing, through the retargeting. Through email and direct marketing campaigns which bring people back time and time again. And yes, there's a lot you can do to bring people back.

But what if you've made a good enough impression that first time that they're looking to make a new purchase of some thing, you offer that thing, and then they go looking for you again. And they can't find you. You're in trouble, you just lost a sale. It's that simple. So these three incredibly easy rules, when it comes to choosing a domain name, easy to type, easy to remember, easy to spell. Very, very simple golden rules, should not be broken.

Now, there's a problem for some of us. We have domain names we've had forever and a day. Okay, and they're neither of those things. Well you need to consider carefully perhaps rebranding if what you're doing already isn't working. But it's certainly an absolute guarantee thing for new domain names, okay? Quick, simple, and easy. The point of this video needs to be the same for your domain name.

All right, that's the second in this series. I look forward to talking to you in the next series as we continue on simple mistakes that you can easily avoid when it comes to the website side of your business. My name is Paul Barrs from paulbarrs.com, signing off, I'll talk to you again soon. Bye-bye.