07 Jun

Web Designer Fail

Today I want to talk briefly about keeping things up to date. This past week I visited a website of one of my competitors. It was a nice looking website, but I was very pleased to notice that it was very much out of date. His blog hadn't been updated for almost a year. The post before its most recent was a few months before that. His latest tweet had been sent out a week and a half ago. The one before, three weeks. The one before that, a month. His Facebook business page had 60 likes. Twitter, not many followers.

I was pleased. Not much competition. And yet, it's also disappointing because this person claims to be someone who can help others, like you, with your online marketing and keeping your websites up to date, keeping things fresh. Now it is possible, of course, that he is so busy that he just can't do anything with his website. But… seriously?

Here's the thing… your website is your online storefront. It is the aspect of your business which gives people their instant impression of who you are and what you do. It's vitally important that you keep your website up to date in many different areas.

Number one… its look, its design, its display, its theme, the way that it presents that five second image when people land and they go, "Wow, looks good. Hey, these people are professionals." These are the things that people decide when they visit your website. You don't want them to arrive and go, "Wow, this hasn't been touched for a long time." No. People want to know that you're on top of keeping your storefront clean. Would you agree?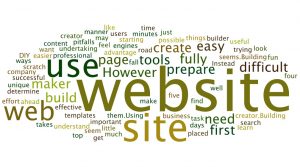 It's also important that you keep your content up to date, and yes, that means best through a blog, that you add extra content, that you add articles which are relevant to your potential customers and your current customers. It's also fantastic for SEO. And yes, we have to keep things up to date from a search engine marketing perspective.
You should also have videos on your website, and yes up-to-date videos, which means a YouTube channel and adding videos on a reasonably regular basis, which, of course, are also displayed in your blog or elsewhere on your website.
These are the things just off the top of my head. There are so many more things. Have you changed over the years? Perhaps your photos need to be updated. Have your staff changed over the years? Perhaps their photos need to be updated. And I am one who believes that the photos of the people behind the business should be up front in the business as well.
It all comes down to this: People want to trust you. They want to feel that they know you. And if they don't yet, then they gain that impression in the first five seconds, sometimes less, when they land on your website.
So tell me, when was the last time you had someone externally review your website and go, "Yes, it's good" or "No, it's not"? Perhaps you should arrange that sometime in the next week or two. No later. Get a third party impression of how your website is performing from a customer point of view. Don't' ask your friends. Don't ask your business associates. Get someone who has never seen your website before and say, "Imagine you're one of my customers. What do you think?" And get their feedback.
That's my tip for this week… now go put it into action!