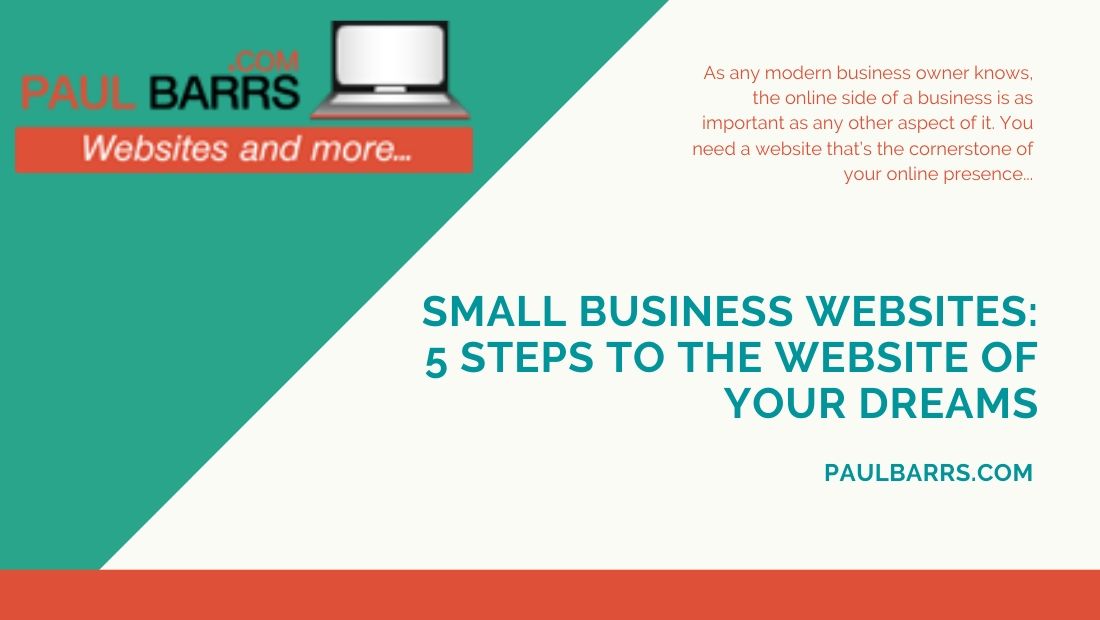 31 Dec

Small Business Websites: 5 Steps To the Website Of Your Dreams

As any modern business owner knows, the online side of a business is as important as any other aspect of it. You need a website that's the cornerstone of your online presence and it needs to offer a design that's suited to the needs and preferences of the people using it who you'll want to turn into customers and clients of your business.

If you haven't designed a website for a business before and you're thinking of doing so, we're going to discuss all of the most important steps you'll need to take throughout the process. Each of these steps is vital and will contribute to the success of your website going forward, so don't ignore them.

Share This Post with your Friends
Clarify the Key Functions and Purposes of Your Website
Before you can do anything else, you need to think about the core things that'll guide your website and shape it going forward. In other words, what do you want your website to achieve? What are its purposes and key functions going to be once it goes live and people start using it?
Those are the questions you'll need to come up with answers to before you can do anything else because those answers will shape the next steps you take through the design process. A website that's designed to showcase a portfolio of work will obviously need to be different to one that's about selling items via an ecommerce store, for example.
Sort Out the Domain Name, Hosting Provider and CMS
When the work of getting the website up and running really begins, you'll need to start by choosing a domain name. It should be one that's easy to understand, relevant to your business and not too long so that people can remember it. Buy the domain name and then think about finding a hosting service.
The hosting provider you choose should be one that you can rely on going forward. They should have a strong track record and be able to ensure your website stays live consistently. You'll then need to choose a CMS or content management system that will act as the skeleton of your website and help you to run it easily and intuitively going forward.
Choose the Template and Plugins You Want to Use
After that, you can choose a template for the website. This will be the thing that dictates how your website looks and feels to the people who visit and use it. It'll structure the layout of the pages and how everything is styled, from the colors to all the other visual elements.
Using a template makes your life easier because it's ready made and you just have to insert it. You don't need to worry about designing the visual aspects of the pages yourself because the template will just take care of all of that for you. You can then select the plugins that'll add different features to your website; there are lots of them out there to choose from.
Map it Out and Think About Navigability
Mapping out the website and it's many pages will be a big part of what you do during this whole process. You need to think about where pages will be and how people will find them. Using things like tabs and drop down menus will help people to find the things that they're looking for.
It's all about planning out the navigability of your website. You want people to be able to navigate it smoothly and easily by themselves without experiencing any kind of frustration. If they find the process of using your website unintuitive, they'll simply head elsewhere.
Add the Visuals and Key Content
Finally, you'll need to think about adding the visual elements to your website. This will mean adding the logo and all of the other things such as photos. This will turn your website into something that looks quite plain and generic into something that looks like it really belongs to your business.
You'll also need to start adding key content, such as a homepage, service pages, product descriptions, contact pages and an about us page so that people can learn about your business.
Achieving a great design for your small business's website is essential. These days, people want to see professionalism and creativity from your business's website. If they don't like what they see when they visit your website for the first time, they'll leave pretty quickly, so be sure to get each of the stages above right before your website goes live.