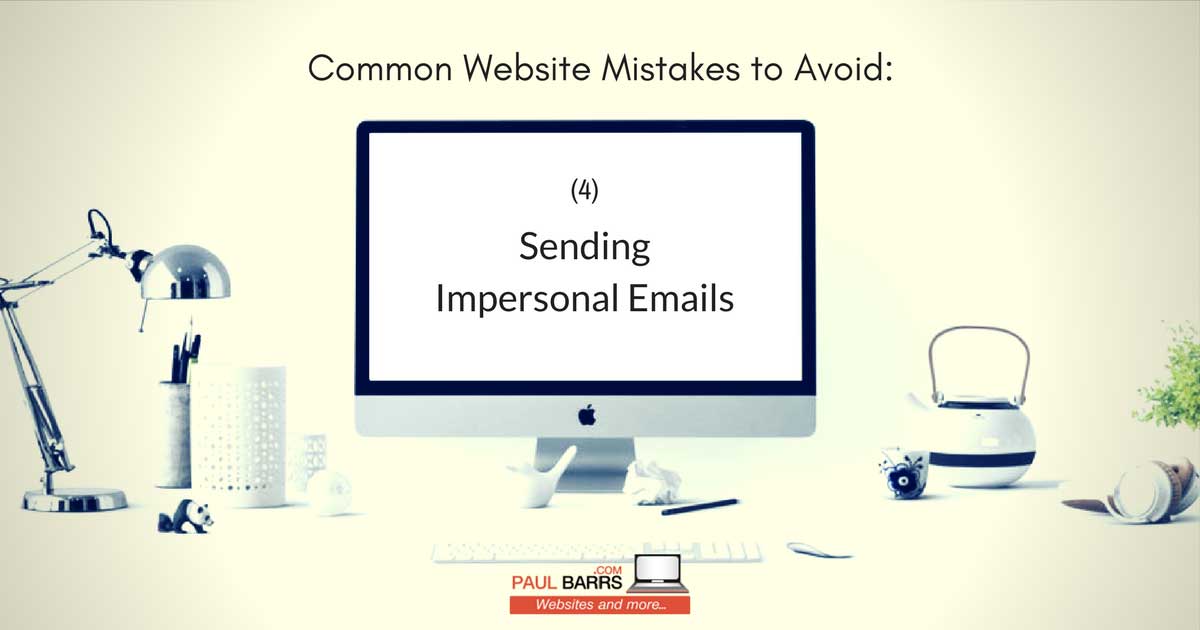 31 Oct

Common Website Mistakes #4 – Impersonal Emails

There are many common mistakes made by small business owners online; #4 the sending of impersonal emails.

Share This Video with your Friends

Hi there, folks. My name is Paul Barrs from paulbarrs.com. Hello and welcome. Thank you for taking the time to stop by and watch this video. It is the fourth in our series on simple things that you can easily avoid when it comes to the managing of the website side of your business. Now this one is an absolute crack-up. It's so easy to fix up. It's so easy to do. I don't know why people don't do it. Why do you have, if you have, an impersonal email address? Why don't you have your name at your domain name.com?

So many people these days because it's cheaper, because it's, "I can get it for free," they're using Gmail in their business. They're using Hotmail in their business. They're using whatever else in their business and not a domain based email address. These days folks, even with your hosting, just using a basic port three or an iMac setup within your CPAL, so easy, it takes seconds to do.

I had a customer contact me recently saying, "Paul, I'd like to set up a new email address for this fellow we've just hired. His name@theirdomainname.com. Can you let me know how much it would cost to set it up?" I said, "Nothing, it's a two-minute job." Folks, if you're not using an @yourdomainname.com email address, you're making a major, major mistake.

I get business inquiries all the time as I'm sure you do from people all around the globe, @gmail, @hotmail, @outlook, delete, delete, delete. If you are not professional enough to be using @yourowndomainname.com, toss. I won't even look at you. I will not consider you if you're approaching me for business.

But, very simply, this is something you can fix in an instant. You've got your own domain name, haven't you? Then utilize it with whatever hosting setup you've got, and of course I hope you've got a good hosting setup, but you must have personalized, good quality, business size email addresses. So yes, there's the usual, info@, styles@, webmaster@, your domain name.com, but for you, aren't you the business owner? Aren't you trying to get started and build a reputation? How about your name@? Of course, assuming that your name is something that people can spell, or at least an abbreviation perhaps.

All right, there's my quick tip for today in this series, simple things you can easily avoid, simple mistakes I don't want you to make when it comes to the website side of your business. My name is Paul Barrs from paulbarrs.com. Good talking to you. I'll talk to you again next time. Bye-bye.