29 Apr

Understanding the EPC (Earnings Per Click)

There are many things about online marketing that you don't need to know. This is not one of those. There are many things that people try to "sell you" that you don't need to buy. This is *not* one of those (actually this is free). Sometimes there's stuff that you just need to understand – just like the topic of today's post.

It's al about EPC (earnings per click)… what you (or your affiliates) will EARN on average each time you (or they) click on a referral link. You can take these principles and apply them to affiliate marketing, CPA, AdSense or product sales.

Either way, this is stuff you need to learn if you don't know it already.

Enjoy!

Here is what you need to make the "most" amount of money online…

1. An offer with a $1 EPC (Earnings Per Click or visitor value) — for example, a $47 product that converts at 2% so that "on average" you make $1.00 every time someone lands on your web page

2. A responsive subscriber list with a 2% clickthrough rate — this means when you send out an email, 2% of all your subscribers click over to your web page. If you have a 1000 person list, expect 20 clicks per day from those subscribers

3. An upsell offer (a 2nd product to buy immediately after they join) set at roughly double the frontend product price with a 33% take rate — meaning if you make 10 sales at $47, 3 out of those 10 people will buy the additional product at $97

Adding this upsell increases your EPC from $1 to $1.66. 20 clicks per day = $33.20/day = about $1000 per month from a list of 1000.

What Does This All Mean?

1. You need to place Google Analytics on your web page to find out how well it's converting… is your frontend at $1 EPC yet? If you have a $97 product there, does it convert at 1%? Does your $47 product convert at 2%? Does your $17 product convert at 6%?

If not, setup Google Website Optimizer and run an A/B split test to increase your conversions.

2. You need to track your links either using your autoresponder's built in tracking (which is what I do) or use Linktrackr… you NEED to know how many clicks a typical email gets you.

If you're getting lower than a 2% clickthrough rate then you need to either increase your email deliverability, send more emails or improve your email marketing.

3. If you don't have an upsell yet, add that offer to your download page and track that using a separate Google Analytics campaign as well — and even split test two different upsells using Google Website Optimizer until you get it to 33%.

If you don't have a list, if you're not promoting to that list and you're not earning $1 per subscriber per month from that list, then you're doing something wrong.

Now Here's Something Cool…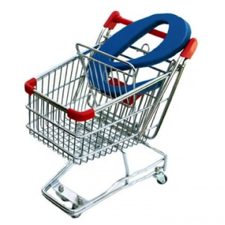 Let's say you had a subscriber list of 10,000 subscribers — or were able to get 10 affiliates to promote who each had a 1,000 subscriber list. In any case, you have access to 10,000 people to tell about this webinar.
10,000 subscribers and you want 250 attendees to show up live on a webinar. (By the way, present a webinar the correct way and you can hit $10-$20 Earnings per Attendee on a webinar but that's another story.) Now I can work backwards and figure out how big of a list you'd need…
I know that when it comes to a webinar, I get 50% of all visitors to optin and 33% to show up live. That number never changes, even when I ask other people for their numbers.
10,000 subscribers means an email gets 200 clicks per email
250 live attendees means 750 people need to register
750 people registered means I need to send 1500 clicks
You'll need to hit those 10,000 subscribers 8 times before the webinar — easy to do with a few quick update spread out along 5 days
Lance and I go through a very similar thought process every time we plan a new class, offer, or promotion. You basically need to ask yourself these questions:
1. What's the minimum amount of money I'd be happy with in the next 30 days?
2. Based on your subscribers (if you have a list of your own, great — if not you'll need affiliates) what price point will they buy at? Now you know how many copies you need to sell
3. Assuming $1 per click with no upsell and $2 per click with an upsell, how you know how many clicks you need
4. Now that you know the required number of clicks, you know how many people need to see your offer to click and buy
That Might Be a Little Too Much Math For Now, But The Point Is…
If you setup your sales letter and didn't make sales, was it because no one saw your web page? That means you need a bigger list and affiliates. If you see 100 clicks coming in every day and you're not making 1-2 sales a day, then you need to convert better! Add a split test and a follow sequence. It doesn't have to be complicated.
I guess what I'm trying to say is, break down the numbers so you can improve. Break them down so that if everything doesn't go "perfectly" … it's not your fault, there's just one little thing you need to improve.
Does that make sense? What are your thoughts?
This article comes direct from the genius marketing mind of Robert Plank. I'd like to say that I know Robert personally, but I don't, he seem to be a little 'out of reach' – however… I *do know* that his marketing strategies are spot on. Stop by his site at http://www.robertplank.com/ and subscribe to his updates. You'll never say you're sorry for doing so.
– Paul.