21 Oct

Exact Match Domains: Breaking News from Google

Google again unleashed the latest update known as "Exact Match Domain" on September 28th. Google's senior engineer Matt Cutts has confirmed tweeting that Google will chase after sites with exact match domain that offer low quality content. Exact Match Domain generally refers to the website having the same keywords as their URL name. As according to Google, sites having targeted keywords being used in their domain names are going to be penalized. This latest algorithmic change which mainly geared up in the removal of low quality sites may cause a short term ranking changes in a number of websites. As according to matt Cutts, this recent algorithmic update will affect only 0.6% of the total English queries. This sudden crack down is to going to affect low quality exact match domains.

Following are the latest tweets from Matt Cutts, discussing about this update: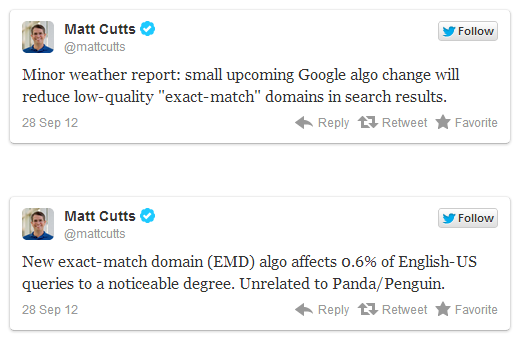 However it is also noticed that high quality EMD sites are also affected at the same time.
Even just a few years ago, this exact match domain idea was surely a great hit and everyone wanted to have keywords in their url as it is one of the effective way to snatch a position at the top of the search results. People wish to have exact match URL as it would surely help your site to be at the top of the search results for several years. But, this unique idea of getting highlighted in the search result is not appreciated nowadays. Infact, Google is just hounding after domain using exact match keywords in it. But like a lot of old SEO Tactics, this EMD concept is also getting a steep downfall. Although just for the time being, this tactic still appears to work on Yahoo and Bing. But for Google, it is giving more importance on branding signals and these exact match domain websites are simply getting away from the grip.
Strong Bonding between Domain Name and SEO: Yes, there has been a strong relationship between domain names and Seo. In the past, URLs and domain names play a major role in the search algorithm. The relevance of a domain name was seen important as it directly specified the services being offered by your website. Actually, nobody can tell from the website such as "dopo.com" until and unless the person is exposed to the company directly. But as according to the previous concept, URL having names such as "content-writing-india.com" can directly say what the website is all about without even being rendered to it directly. However, this concept is hopefully getting an end as Google is strongly opposing this concept of using keywords in your domain names.
Nothing to panic at all: Even if you are using Exact Match Domain, there is anything to be scared. Not all sites exact match domain seems to have a downfall in the rankings. It totally depends on the site itself. The companies who are still doing well are the sites with good brand signals. Only the companies that need to take tension are the ones who are using this exact domain name concept in their url just to get a significant position for their company and in reality they just divert from their original business.
Thus, this latest update from Google really loosens the entire foothold of all the companies that were using this exact match domain concept from the past and were continuously getting a significant position in the search engine ranking. However, time has come for them to change their traditional thoughts and warmly welcome the new change as this would be beneficial for their company's sites. Google is mainly focusing on the sites having brand names as their url names and highly appreciate those sites. However, if you have any points to share with us regarding this latest Google's update, please feel free to drop a line.
Aditi Datta is a Search Engine algorithm analyzer who keeps an eye on every Search Engine algorithm updates and she selects SEO strategy for a leading SEO company in India according to algorithm changes.