03 May

5 Real Time Web Analytics Programs

Web analytics programs are vital for any online business as you'll need to review your sites performance by pulling key data but what's even more essential is real time analytics programs. By using real time analytics programs you can find out if your site has any issues like down time or checkout process issues. Seeing how many visitors are on your site at that very moment means you can act quickly and recognise if there is an issue. Here are some of the best programs out there:
Google Analytics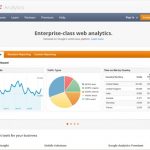 The most widely used analytics tool out there. The real time report is very basic and shows a count of how many visitors you have on your site. You can see things like:
Top referrals
Top active pages
Top keywords
Top locations
Although Google Analytics offers this real time report, the standard reporting sadly isn't. The data within the standard reporting will be between 2 – 4 hours behind. If you want a basic real time report for free and you only want to see the number of visitors on your site then Google Analytics would be a good option.
Woopra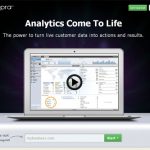 This one is my preferred choice but unfortunately you do have to pay for it (unless you are non-commercial). The pricing starts from $11.95 a month but it all depends on how many page views you have a month. Some of the advantages are:
All of the reports are live
Track custom events – send notifications to your mobile
See historic visitor profiles (how they have navigated etc…)
Platform available on a mobile app
30 day free trail
Lucky Orange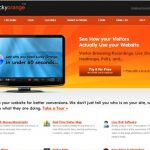 Some of the reports from Google Analytics and Woopra you won't get with lucky orange, but what you do get is:
Visitor recordings and live sessions
Visitor polls – ask questions in real time
Heat maps – click, mouse movement, scroll depth
Live visitor map
7 day free trail
If you manage only 1 site and have up to 500 page views a month than you can use the forever free plan which allows 10 visitor recordings and a small amount of heat map data per month. If you get much more data than 500 page views a month then the lowest starting package is $10 per month.
Clicky (getclicky.com)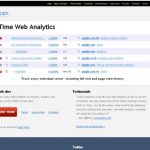 Much like Woopra the reports are real time and you can see data as and when it happens. Depending on how large your site is clicky offers free accounts to pro accounts and even custom accounts. Some of the feature includes:
Real time reports
Goal tracking
'Spy' on visitors in real time
Split testing
Twitter analytics
There are many cool features that clicky offers that other don't so make sure you check it out.
Piwik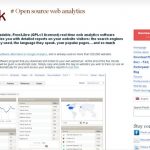 Piwik is a great alternative to Google analytics as it's free and offers a lot of similar reports. The difference with Piwik is that you need to install the pwiki files on your webserver rather than editing your html. Some of the features it offers are:
Customise how frequent your report generate
Customisable dashboard
Add/remove plugins easily
Ecommerce, goal, campaign, custom variables tracking.
Real time visitor
Conclusion
It's very hard to choose just one, as there is a huge range of real time analytics programs out there but it really does depend on how large your website is and what data you want in real time. My advice would be to check out all of the above (and more) as they will all have their advantages and disadvantages over one another.
Daniel Whittaker is a keen on writing about analytics, conversion and search optimisation. He is currently the website content administrator at Cartridge Monkey, a leading supplier of printer consumables in the UK.