28 Sep

11 Steps to Create and Sell Your Own Digital Products on Your Blog

Product Creation is my personal favourite topic. I've been creating products and selling them online for almost as long as the internet has *been* online (I did say almost!). I also write about product creation often… but it surprises me that others DON'T. Why? Because product creation is the BACK-BONE of EVERYTHING that we do online to make money… we earn our income ONLY after a product is *sold* that we've helped sell. The masters of this universe are those who CREATE the products, NOT those who sell them.

So when I was contacted by today Guest author with an article on product creation, I jumped on it. It's a good read, and even worth a Video reply (which I might do when time allows).

So sit back and enjoy… "11 Steps to Create and Sell Your Own Digital Products on Your Blog"

Creating your own digital products and selling them on your blog is a great way to make money on your blog without getting into the affiliate products nightmare. We have sourced these 10 steps to sell thousands of products every month and make your place among the top online marketers. Here are the ins and outs of selling your own digital products, what works and what doesn't.
Creating Your Own Digital Products
Creating a digital product is not that difficult, once you consider all the various options you can explore. Each individual is unique and is able to provide distinctive observations and expressions for their talents.
1. Study Your Market
Look up forums related to your niche for questions that people raise. Look up blogs similar to yours and check out what they're selling. Buy a few digital products online and evaluate what you get for your money.
2. Evaluate Different Digital Products
eBook: Explore various options within your own niche and ask your readers what they'd like to read. You could compile all these questions and write a detailed eBook providing simple solutions to all of them.
Digital Photos: What you need is a high-grade digital camera, and eye for photography (you can take a course too!) and an idea of what people buy.
Digital Videos: Consider options such as video tutorials on sought-over topics, or information-rich videos that'll benefit your audience. Study digital video-camera work, editing, sound-synthesizing and so on.
3. Develop A Unique Product
You can be sure that there'll be several other blogs selling digital products on your niche. Think of something unique that you can offer your audience, something that no one else is offering.
4. Study Payment Options
You could tie up with a payment channel but that will be an expensive option, especially if you're just starting out. PayPal Pro is a good way to go – there are ways you can integrate it into your blog as well.
Selling Your Digital Products
5. Create A Great Offer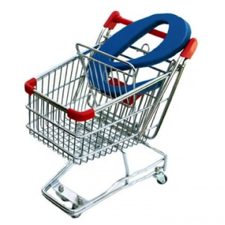 What you need to gain your audience's attention is a great offer. Even if your product is not very unique, a smartly worded offer can grab eyeballs. If you're just starting, try offering a free set of digital photos upon the purchase of your eBook. This not only markets your photos but also expedites your eBook sales.
6. Create A Well Thought Out Sales Process
What people want to know is how your product is going to benefit them, and in what way it's better than X or Y's product. That's what your copy needs to convey, while pulling them in with an unbeatable offer. Figure things out ahead of time and be one step ahead of your customer at all times.
7. Ensure Security
Use your web hosting service's File Manager to password-protect web-pages.
Create separate, individual folders on your site for your digital files and upload your files to the appropriate folders.
Create an "index.html" page for each folder with a thank you message to your customers along with the file name they're supposed to download.
Make sure you password-protect each folder using your web hosting package's Control Panel. Check with your hosting service if you need help.
8. Create Your Sales Page
Your sales page should contain your sales copy, offer and a great image of your product. Remember that a good looking and efficient sales page is very important when it comes to gaining customer's attention and respect. If you're using WordPress, create your Sales Page using OptimizePress.
9. Design A Product Image
You need a snazzy, impressive product image to show perceived value. If it's an eBook, design a great eCover. If it's stock photos, create a beautiful collage design. The perceived value of the product ties back with how the customer would feel if it were an actual physical product. It's an important factor when it comes to increasing your conversions.
10. Work On Product Delivery
Build your membership area using a cool WordPress plugin such as Digital Access Pass (DAP). This plugin has a built-in shopping cart and even an affiliate program if you want to sign up affiliate marketers for your product. Integrate this plugin with PayPal Pro and you're ready to sell. The plugin even sends out an automatic email to customers when they pay, with details of where and how to download your product.
11. Launch Your Product
Do a pre-launch before your product launch, to a small part of your audience to create awareness. Be sure to market your pre-launch through Twitter, Facebook, Google + and other social media sites. Make sure people know your exact product launch date. Provide a link where people can get a glimpse of a few pages of your eBook, a partial collection of your photos and so on. It's important to impress people, to get them to talk about you to their friends.
Stephen writes for Invesp, a web conversion optimization company that helps businesses in optimizing their landing pages and increasing conversions of their online campaigns.