12 Jan

Niche Product Riches

I won't lie to you folks, this has got to be one of the coolest Warrior Special Offers you'll EVER see – no bull!

If you've been around my training any time now you'll know that my personal pet favorite is product Creation. However, I"ve never personally stepped outside of the "internet marketing" niche area… but after looking through *this*, wow, I can't imagine why I'd ever go back!

Embarrassing Product Riches is an incredible little book.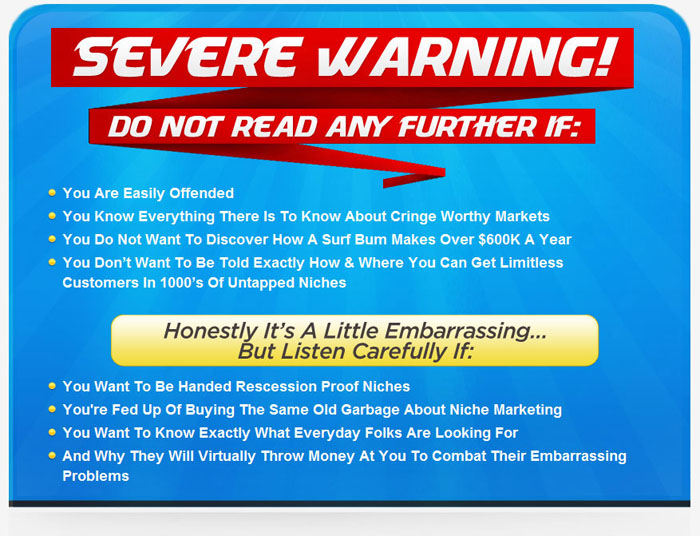 Yep, that's right I make over $500K a year selling what others are too scared to sell, have no idea how to sell, or just simply didn't even know they could sell!
Every hour of every day folks like you and me are hunting down these personally embarrassing products 365 days a year – yes, I even get sales on Christmas day.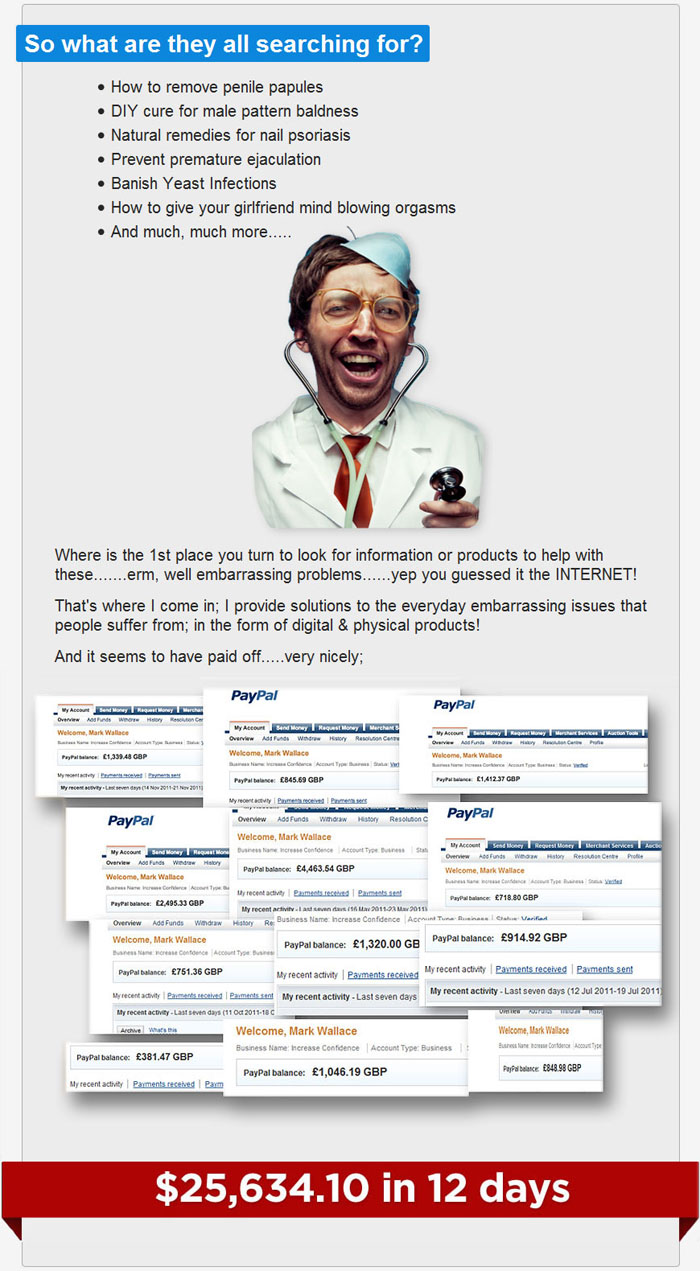 And in case you were wondering… I have absolutely no reason to belvie that this isn't the REAL DEAL with over 1,000 units being sold in it's first month of release!
Take a look at some of these testimonials –
First off, this thing is freakin' hilarious. Penile Papules? I don't think I ever laughed so hard looking at a sales letter! lol However, I know for a fact people will buy up these solutions to embarrassing problems because they don't want to expose these problems to the world.

The internet at your own home, with a digital product, means that you can buy these solutions without your friends learning of your problems.

Great product Mark, I'm going to be telling my list about this one!

Rob
I've made the vast majority of my income over the past few years releasing info products on and recommending affiliate products on so-called "embarrassing" topics.

I know that when people are shy about talking to someone about something in person, the first place they look for information is online.

This is a gold mine with a vein of gold that will go on forever.

I don't recommend much, but when I do, it's something that I know for a fact has worked very, VERY well for my own business over the years.

And this is definitely one of those things.

My only regret is that I didn't write this product first. You beat me to it!

Great job! Two thumbs way up!

Daredevil Marketing
Mark has provided a comprehensive resource on exactly how you can conquer the "embarrasing" products niche.

This is not some quick 15 page report, this is a in depth product that provides the end user with all the tools and resources to make a real success in this MASSIVE niche and make a killing in the same way that mark has been doing so. Mark is literally showing you how to replicate his success.

It is clear that Mark has spent a lot of time and effort to make this product as high quality as possible and at $5 it is an absolute steal!!!

If anyone is sitting on the fence with this, dont! Just buy it

Nick Farina
I read ALL 70 pages of this bloody brilliant WSO and I LOVED it!!

I had fun doing the exercises along with reading and I found a couple doosies that had me chuckling Needless to say I jumped over and added them to my mind map!!

Mark did a fantastic job at laying everything in out in a step by step manner.

If anyone is hesitating on this, please don't. This could easily be your ship that you have been waiting for IF you follow Mark's easy steps and actually do what he says AND take daily action then their is NO way that you can't succeed at making money in these embarrassing niches.

Cheers

Trish
Do I need to say more?
No, I don't think so. However, this *is* a LIMITED TIME special offer, so jump over to the Warrior Forum now to read the rest of the information page and grab it while it's still available.