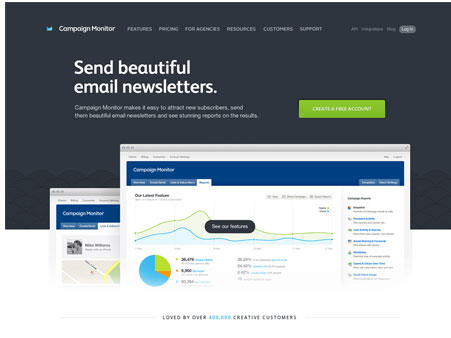 18 Apr

Campaign Monitor Tutorial – Get Started with Email Marketing

Take your email marketing to the next level with Campaign Monitor

Share This Video with your Friends

Watch More Videos on the Complete Marketing Automation System Here!

Transcript:

Thanks for taking the time to learn more about your new monitor campaign account. This video will show you everything you need to know to use Campaign Monitor and Optimize your Email Marketing Strategy.

We'll cover a lot of ground today but you can find helpful attachments and resources or even shoot us a question using the tools alongside the screen.

Today, we will cover a number of key features and best practices to help you make the most of campaign monitor.

First, we're going to start off with How to Create, Manage and Grow your subscriber list. We'll then review how you can send the right message at the right time using automation and transactional emails. Next, we will review email content best practices, and show you how to create a beautiful email campaign using the Email Builder.

We will then look at improving your messaging and learning about your audiences on your reports and analytics. Importantly we'll help you with 'email delivery' and 'accounts set-up' best practices such as setting up Google analytics to measure conversions from email. Finally we'll provide next steps and resources for continuing your learning journey. At any point through this video your free to jump ahead or review any key topics of interest.

Let's get started.

Lets begin with the foundation for your email marketing strategy, subscriber list management. The key to successful list management within campaign monitor is in maintaining as few list as possible. The focus should be on building upon existing list and using custom filled data to build segments, instead of importing a new list for each sent.

This will enhance your ability to gain insights about your subscribers, maintain and engage the list, and protect your sender reputation.

Now let's take a look at how to create and segment a subscriber list.

Navigate to "List & Subscribers" to access all subscriber data including any opt outs or custom filled data you may have loaded into the system. To create a new subscriber list in campaign monitor we'll click the create new list button and name our list.

Now we can add subscribers. If you are migrating over from another platform or have an existing subscriber list you can upload it manually by dragging and dropping in Excel or CSV file here.

When you import subscriber in the future, any and all duplicate emails will be de-duped and have any existing subscriber data such as names or birthdays over-written.

You can also streamline the process of adding new subscribers by connecting with our API, setting up an immigration such as Shopify or Saleforce, or by connecting with one of our sign up forms.

Creating a sign up form to collect new subscribers is easy, first of all, we go to our subscriber list then click the "sign-up forms" link. In Campaign Monitor we provide a variety of different subscriber forms that you can use to collect new subscribers from your website, social media properties, and more, then add them to a specific subscriber list. Examples include a flexible HTML form you can embed on your website and a subscribe form tab for Facebook.

If your website is built on WordPress or you have an online store on Shopify you will find that they are amongst over 250 integrations that we and our partners offer to fuel your list building strategy.

Now we know the basics.

It is important to learn about customs fields. In short any subscriber data that you collect alongside name and email address are stored within custom fields. you can see that we've added custom fields about our subscribers city and birthdays, we can then use the custom filled information to create and target subscriber segments.

Segments are groupings such subscribers based on common custom field data such as gender or location. To see existing segments and create new ones click on "segments". Segments can be based on one or more rules and include both "and" "or" statements.

For example let's set up a San Francisco Segment. We'll select the custom field for city, sent the segment rule to match as exactly, and select San Francisco as the city option. Once we run and save the segment we will produce a segment of subscribers who stated their location as being San Francisco. So let's say we're hosting an event at San Francisco. Using segments like this we could really drive engagement as it means we can target subscribers in this location specifically.

Now you have new subscribers joining your list let's take a look at using Marketing Automation to engage your new audience

To do this we'll set up a Welcome Email. Automated emails tends to perform better than regular email campaigns, this is because they can be triggered to send at key moments when subscribers are most engaged.

By thoughtfully using marketing automation you can reduce 'next time to purchase', drive subscribers back to your website, and scale customer onboarding, and more.

Welcome emails in particular are triggered when someone signs up to your subscriber list. They are simple to set up and a great way to establish your relationship and set expectations from future email marketing messages.

Let's look at how to set up a Welcome Email using Campaign Monitor's new visual journey designer, go into your automation tab and click "create a new journey". Start by naming the journey for your own internal reference and select a subscriber list to attach the journey to. Next we need to choose the trigger for the journey. You see here that there are number of options per triggering the journey: the anniversary or the date for recurring automated birthday email journey; entering or exiting a segment maybe for one someone enters a paying customer segment of your list after they made their first purchase; or they left the segment of the non-paying customer.

Our trigger for the welcome series will be when someone joins the list. After we saved the rules that trigger the journey we want to define the journeys content, for welcome series we'll want to send our initial emails out at with no time delay, we'll name this email step, give it a subject line and from name, then we can define the content.

Let's look at using a customisable template. Once the first email has been added you can add subsequent emails to the journey, and in some marketing circles this is known as a 'jerk campaign' or 'marketing automation series'. We can include time delays between emails, as well as branching logic to deliver the most relevant messaging to our subscribers.

Branching conditions can include whether or not a subscriber belongs to a specific segment, their activity or engagement with their previous journey email, custom fields, and more.

Once we have our journey looking exactly how we want it the final step is to make the work-flow live. You can always edit your email content or add extra emails later.

Alongside Campaign Monitor's Email automation, another way to trigger emails based on events is through transactional email. Transactional Emails are triggered to send on demand by specific interactions on your website or application. Example of transactional emails are: order confirmations, shipping notifications, passport reset messages, membership renewal notices, and account status messages.

With Campaign Monitor's smart transactional feature, marketers can now take control of what have traditionally been considered to be system emails. Once you have triggers for tese transactional emails in place you can create beautiful on brand emails using Campaign Monitors mail Builder and don't have to bother your developer again to make changes to the email content or design. You can also view interactive reports without having to build custom tools.

Now let us look at Creating an Email campaign and in particular some of the powerful features you can use at our email builder to ensure your messages on brand and relevant to your subscribers. We'll start with some best practices to ensure your emails perform well

Our advice includes: balancing images and text to drive messaging, focusing on a few prominent calls for action, because with today's attention spans you'll want to make what you want to achieve very clear, and by using email buttons you can attract attentions to key actions and drive higher click rates.

Next, videos have been shown to yield increased opens and clicks. While you can't embed the video right in the email you can paste your Youtube or Video URL into the email, which will display a preview of the video and take your subscriber to the video itself when clicked.

Make sure your templates are responsive.

More than 50% of people are opening their phones on their mobile devices, and lastly leverage personalization and dynamic content to surface relevant content.

Studies show that 74% of people get frustrated when emails do not suit their interest or needs.

We'll start creating a campaign by navigating to the Campaign tab where all our previously set campaigns and saved emails drafts can be found. You can hover our over a previously set campaigns to duplicate it, or you can start a new campaign from scratch. Like with the work flow we'll name this email give it a subject line and a reply to an address. If we want to personalize the subject line, for the first name for example, we can easily do so using Campaign Monitors own template tags. What's more it's possible to set up a AB test at this time. Using AB testing. You can test two versions of the subject line from name or email content, it just takes a few extra seconds, can have a dramatic impact on opens, clicks, and performance, while allowing you to learn more about your subscribers

For now we'll set up a regular campaign however you can leverage AB testing for any of all your email campaigns.

Let us look at using a customisable template to create a new email campaign. By default you're given the option of using content from previously sent or drafted emails which you can choose to start from to save time or you can use one of our pre-created designs. Alternatively, if you're custom coating your emails using HTML and CSS you can import your template. In this case we'll create an email using an email builder design, this design can be fully customize with our own content and brand colors.

Let's begin with branding. You can drag and drop the logo image from your desktop and adjust size and spacing. We could also add a link. It is also a best practice to add pre-header text to support your subject line in email inboxes like Gmail and Outlook and add a web version link should recipients prefer to view the email in their browser.

Now lets add a hero image. By adding a layout and image block we can add a prominent image to drive attention to your content. If we are not totally satisfied with how your image looks in the email content we have an image editor for flying effects, cropping, resizing and more. We have the flexibility to add text to various regions in this email including over a hero image or in a layout. Once we have added some text we could easily choose from thousands of font colors, sizes and styles.

Our smart color picker remembers your recently used colors giving you quick access to brand colors with one click. You could also personalize your email content using template tags to add your subscribers name or custom field data.

To emphasize your call-to-action, buttons can be added to your content customized in a number of different ways.

To display a specific content and layout to certain segments within a subscribers list you can add dynamic content. Since this section is only relevant to the San Francisco segment we will select "Who Should see this?" and select the San Francisco segment only. Then when we preview the email we can switch between say the San Francisco segment and another segment to demonstrate how this content will appear conditionally. This is dynamic content and it is very powerful technique for delivering relevant content to your subscribers.

Once we're happy with our email content we can preview, test and send our email campaign. Following the creation of an email campaign in the email builder we could preview both desktop and mobile views of the content and send our test for email address.

There is another opportunity to test your campaign prior to sending. Email previews can be set up to five emails addresses so you can review your email in the inbox. Note that there is also the option of preview the email content in over 30 email clients.

Now it's time either to send the campaign or schedule it for a future time and date. Within seconds of sending you can launch our world view report to see exactly who's opening, clicking and sharing in real time and where in the world they are. The data we gathered to generate this report can be use to create location segments, so future email campaigns can target and include email content that's relevant to the subscribers geographic location.

Before we dive into other reports let us look at some email benchmarks keeping in mind that these vary between email service providers and industries. Generally if you're seeing an open rate of 20% or above in your email campaign reports, that's a great start. Below 15% we should consider how can we improve, not only to ensure your getting value from your email marketing, but to ensure email hosting services like Gmail and Yahoo and others continue to see your brand and campaign monitor account as being trustworthy.

This will ensure that a high percentage of emails sent, continue to be delivered to your subscribers.

With these statistics in mind let's take a look at some of the different reports campaign monitors has to offer to help you measure the success of your email marketing and learn about your subscribers.

First and foremost, we have the campaign snapshot, this is a summarize view at how your campaign performed. Key email metrics here include the campaigns open rate, click rate, bounce rate and unsubscribe rate. You can also export this report as a PDF. More detailed reports include the link activity and overlay report to show you which links where clicked at the email campaign. With the email overlay you can view a visual heat map of where people clicked and in particular which buttons and call to actions attracted the highest engagement.

The last report we're clicking to is the email client usage report. This report summarizes which devices and email clients are being used to read our email messages, so we can optimize our messaging for let say mobile devices or popular email services.

To improve your chances of having your email successfully delivered to the inbox, we strongly recommend setting up domain authentication for your sending domain. You or your IT team can prevent emails from being filtered to spam in just a few simple steps. In account settings click on Mange Account, then add a sending domain. Once you add your domain you can generate DNS records. These records then can be added via your domain name providers console or domain management settings. While these setting usually take 10 to 15 minutes to propagate we generally recommend waiting up to 24 hours. Once done successfully you should see a confirmation screen.

By having this domain authenticated, you're relaying a message to inbox service providers like Gmail, Yahoo and Outlook that they should trust your brand as a legitimate sender and that your emails are actually coming from your brand. This significantly improves your chances of having an email delivered to a subscribers inbox and instead of being filtered somewhere else like spam.

To really make the most of campaign monitor we have best practices to help you with reporting on the success of your campaigns and ensuring your business applications talked together and shared data. First to allow you to report on what actions your subscribers performed beyond the click you can set up tagging on all email campaign links. Simply add the domains to be tagged. Following a campaign send you be able pull reports tracking web subscribers are doing when they visit this domains and even set goals to calculate the revenue generated from email marketing.

Your learning journey does not end with this video there are many other resources here to help you get more from your email marketing. Continue your progress for email mastery with our email marketing guides and customer community. Of course you can find out about our latest features and more email marketing best practices via our blog and email newsletter.

Thank You for participating today with Campaign Monitor, let's take your email marketing to the next level.