A Special Offer to Give You More Time, More Freedom – and More
Sales

!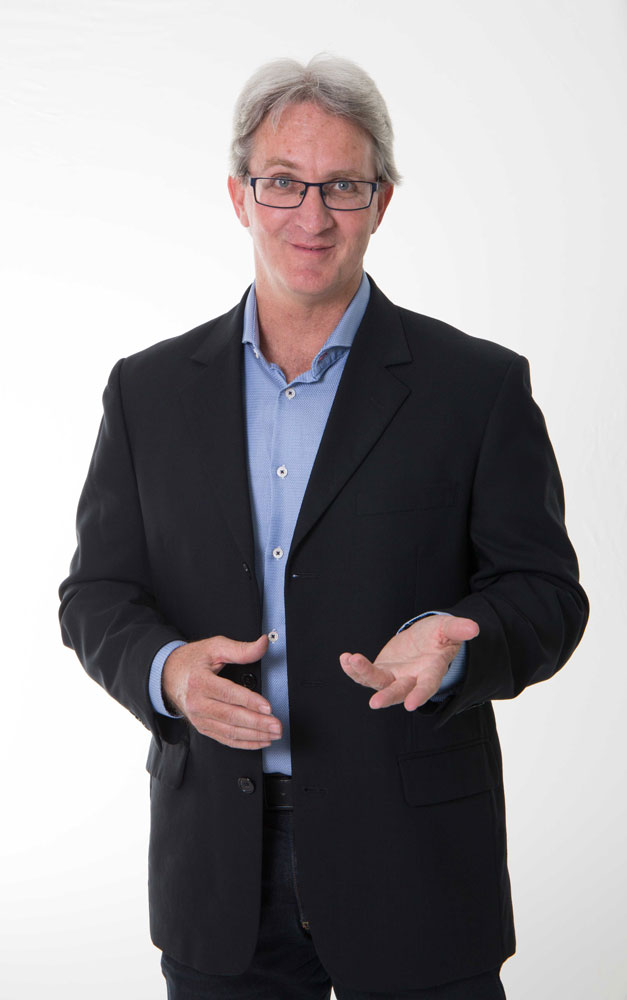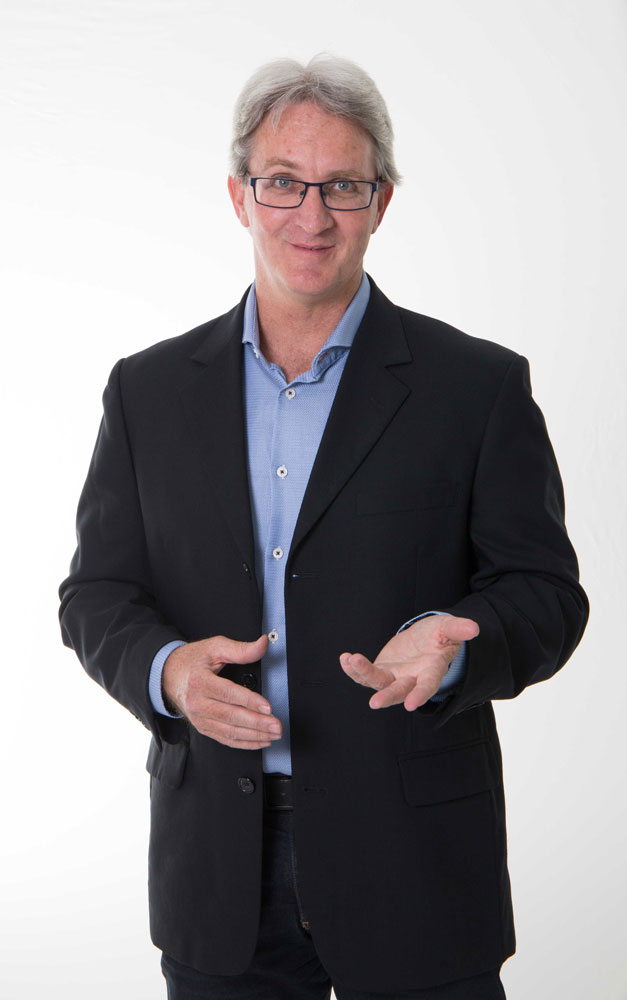 You don't have to do it all alone! I'd love to be a part of your marketing team!
The

top performing websites

all share this one thing in common… they engage in statistical analysis – they measure where their website traffic comes from, they look at what their website visitors do, and they look at when they leave (from what page etc). THEN they work towards consistent, monthly, measurable improvement!
But WHO has the time, right?
These marketing packages are designed to help you save time and save money; allowing US to do the jobs that you need done in the shortest amount of time, producing the best possible results.
PLUS, if you really want to become the industry leader in your field, then just
ask us to do EVERYTHING

for you. It's that simple.

Our most popular VIP Package 'Marketing Essentials'* gives you Premium Website Hosting, up to 5 Hours Support per month, full security and managed backups, along with our fully customisable Marketing Automation eMail System – PLUS full access to essential reports to help you get more customers and make more sales online!
At just $297, that's
less than half the price

for everything separately!

Take a look at the packages below to find the one that suits you best, and then either order online or contact us to find out more –
Note: All prices are in Australian dollars plus GST.
Particulars:
Website Hosting:
Our hosting services (listed above) are governed by our Websites Hosting Legal Agreement, which offers 3 different hosting packages; Basic, Plus, and Platinum. Each of these are managed by Paul Barrs Publishing, on our own VPS system hosted here in Australia. We also offer Self Managed Hosting for those who wish to 'look after things themselves'.
---
"Support" Part One:
We use the term 'Support' to refer to any item of work we are doing for your site or your business (ie. requests by the client to update something). Our monthly Support Services are measured in blocks of time.

This time is then tracked using the time monitoring platform Toggl. Itemised reports are available to the client at the end of each month showing time tracked for various tasks.
The advantage of the above packages is that you get a huge reduction in time billing / support compared to the industry standard $120 / hr.
Support requests must be requested through the proper channels to be received and responded to in a reasonable amount of time. To request support please email support@paulbarrs.com. Only sites which are registered in our system are eligible to have work performed on them under this arrangement.
At this time Paul Barrs Publishing does not provide 24/7 support. Our support hours are 9am – 5pm Monday to Friday.
Please note that unused time cannot be transferred from one month to another.
---
"Support" Part Two:
Examples of items usually covered under this agreement:
General troubleshooting (HTML, CSS, Javascript)
Styling elements with CSS
Content population & image manipulation
Creation of basic graphics (e.g. buttons, banners, etc.)
WordPress consulting (advice and support)
Optimization of CSS, Javascript and Images
Theme / plugin audits / updates
Plugin installation and implementation
Examples of updates that are NOT usually covered, as they take up more time:
Website design / redesign (10 – 25 Hrs)
Landing page design (2 – 5 hrs)
Custom plugin development (10 – 20 hrs +)
Custom theme development (10 – 20 Hrs +)
Search marketing/SEO services (10 hrs + per month)
One on one consulting / meeting time **
But, ALL items on the Checklist ARE covered where shown.
** Note: One on one consulting time with Paul is measured at "double time" (1hr time takes 2 hours from the allowed support time); and is ONLY available with one of the "Marketing" Packages.
Please note that time / services / support provided beyond your block of allocated time will be billed at $120 / hr. We will always do our best to notify you of such billing prior to task commencement.
---
WP Security:
Our WP Security Service (WordPress Security) manages all technical updates of both plugins, the theme and WordPress itself, along with installing updated and added security measures and performing regular site backups of the WordPress install.
The WP Security Service is the best 'insurance' your WordPress Website can have!
In detail:
Installation / Configuration of appropriate security plugins.
Reconfiguration of WordPress security 'defaults' (these are hacks waiting to happen).
Installation of appropriate backup plugin system.
Scheduled monthly updates of WordPress Core, Plugins, and Backups.
SECURITY SERVICE GUARANTEE. If your WordPress website is hacked, we will restore and reinstall your site  free. No additional cost.  Please note this does not apply to other areas of your site that are not managed by WordPress.
---
eMail Automation:
We have partnered with Campaign Monitor to bring you the best email marketing system for small businesses available today. Stop wasting time with the 'free ones'. Yes, Mailchimp can run a list for you; but can it follow up people on that list automatically / while you sleep / with no extra effort? Not under it's FREE PLAN it can't!
As a business owner you need to have to the latest eMail Marketing Automation services, to create and run effective and powerful eMail marketing campaigns. This system gives it to you – and under the terms of this agreement you can have an unlimited number of lists (list segmenting is one of the easiest ways to get better results) and send up to 5,000 emails per month (Marketing Essentials), up to 10,000 emails per month (Marketing Plus), and up to 15,000 emails per month on the Marketing Platinum plan without incurring additional costs.
Further questions and answers can be found on our Marketing Automation page.
---
Reporting / Reporting Analysis:
The reporting / reporting analysis service are for those who are serious about improving their marketing results. All business leaders agree that we can make better decisions based on correct data and analytics. As Jim Rohn said, "The Numbers tell the whole story."
The reporting packages covered above involve the set up and delivery by email to the client various reports as ascertained in an initial interview. Such reports will then be forwarded to on a monthly basis (Marketing Essentials).
The additional report analysis as provided for in the Marketing Plus and Marketing Platinum packages are where the required reports are also reviewed by Paul Barrs and then forwarded to the client with Paul's analysis, suggestions and recommendations.
This gives the client access to Paul's nearly 3o years business management experience and 17 years digital marketing experience, to help them further make better decisions based on not just 'the data', but on a proven track record of business success.
---
Website Marketing Checklist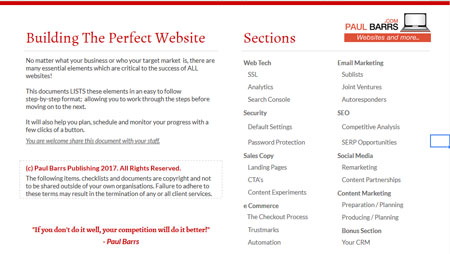 The Marketing Checklist is Paul's custom checklist built firstly for PaulBarrs.com and then for Paul Barrs Publishing Clients.
It contains over 140 items to 'check off' (and perhaps fix / update or repair) on your site, designed to generate more sales, leads and new business.
The checklist covers all the essential of Web Tech, Security, Sales Copy, E-commerce, Email Automation, SEO, Social Media, and Content Marketing. There is absolutely NOTHING LIKE IT elsewhere in the marketplace!
Book a time now to get a look inside this marketing masterpiece!
CLICK TO CONTACT PAUL TODAY
---
Ongoing SEO:
SEO (Search Engine Optimisation) includes everything from the initial keyword research and analytics through to the On-Page SEO, and the Off-Page SEO. It also covers both local SEO and touches on Content Management.
This service includes, but is not limited to the following:
Register, Verify and Setup with Google Search Console & Analytics.
Set up Domain Spam filters in Analytics
Run Google speed tests. Fix / Improve.
Check for various Plugins; Adjust or Setup.
Create Custom 404 Error Page, check 301 / 302 redirects.
Check for crawl errors, problems, bad links  Security issues. Fix
Review Image Alt tags, meta titles / descriptions. Update.
Review / update internal linking
Set up Primary Page Optimisation Tracking / Reporting
Setup / retest Goals in Analytics
Review Sitelinks
Re-check Search Console for errors. Fix
Review Backlink in Search Console. Set up reporting.
Do Competitive  Backlink Evaluation
Review current Citations. Update / Edit / Add.
Prepare client content management strategy.
---
Content Management:
Want to put your content on auto-pilot? This is how –
Gathering the data…
We start with at least a dozen "Bullet Points / Headlines" on your chosen 'Topic' (based on our SEO work).

For each we write a sub-heading (sentence or two) which amplifies / expands / explains the heading in more detail.

We / You record a short video* (3 – 8 minutes) on each 'point'.
We create a video thumbnail image and a graphic / meme for each point.
We use the transcript from the video as a foundation for an article.
We can also use the MP3 (extracted from the video) as additional content if required.
Publication to the web…

We upload the all videos to YouTube and optimise for search as well as schedule publication one week apart.
We take the transcript / article and publish on blog* along with corresponding images, videos and if applicable,
MP3's. Each are scheduled a week apart following the publication of the video on YouTube.
If you're running a newsletter, we take a snippet of the articles (two or three at a time), and publish them with links to relevant blog post; each newsletter scheduled so they go out after corresponding blog posts are published.
If you have an Instagram or Pinterest account we publish all the custom thumbnail images with links back to your site in groups of 3 or 4 at a time.
If relevant to your industry, we also publish your images to / as a Slideshare. This Slideshare presentation can also be added to your website content.
We take 3 – 4 related articles, with links to the videos on Youtube and create PDF's to publish on Scribd and DocStoc. These same PDF's can also be added to an "archive" on your website. These are also indexed by Google.
Sharing your content…

Lastly, we share everything on Social Media* across a 3 month period:
The YouTube videos on the same day they are published.
The Blog posts which go out 2 – 3 days after the videos.
A link to the newsletter, 2 days after it is published.
An update across social media of your Instagram / Pinterest 'updates'.
Your Slideshare presentation.
Each PDF as it lands on your site, on Scribd or on DocStoc*
Notes:
Professional videos are available @ approximately $1,500 additional cost.
We need access to your blog, your Youtube account, and your social media accounts if we are to publish the content there.
Mastermind Club –
For over ten years now I've been running an exclusive Membership Site where I store all my training videos and audios. Currently there are over 400 training pieces inside the site. It's literally the archive of everything I've done.
Thought this year, all Marketing Essentials, Marketing Plus, and Marketing Platinum clients will receive complete access – not just to the archives, but to all new training materials that  are uploaded as long as your subscription is current.
The Mastermind Club is a Coaching Program like No Other!