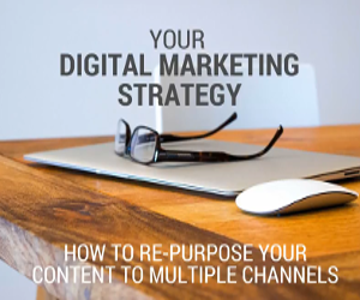 23 Feb

Your Digital Marketing Strategy

From the desk of Paul Barrs

Content is the key; it's what the customer wants, it's what Google wants. Our job as business owners is to follow a sound strategy delivering our content (repurposing it) in as many ways possible.

Share This Video with your Friends

Most people, when they think of digital strategy, think of website, search engines, social media, and they're often limited to just those three. There is an error, however, that if we were to focus on just them, we believing all things should work out when they don't, we then focus no longer and we fail.

Here's the thing. Developing a strong digital strategy isn't about your website. It isn't about what you do with search engine marketing or what you do with social media or images or graphics. It is, in fact, about all of these things and more. More importantly, it is about the one thing that they all have in common and how you as a business owner can best provide your customers with what they are looking for, and in return they show their love to buy from you, to contact you, to become a part of your circle.

What am I talking about? Simply this; effective content management.

Let's take a step back for just one moment.

I'm going to assume at this point that you have a website which is working well.
It looks good.
It feels good.
It loads fast.
All of the pages are able to be indexed.
You are blogging.
You are updating on a regular interval.
People are coming to your website, and your conversion process yields inquiries and customers.
That's the ideal. For the premise of this article, I assume you are already gaining some wins.
If not, then take heed for the advice that follows will show you exactly what to do.
It comes down to this; content management. That in the modern world of digital marketing is digital strategy. Take, for example, this article. As I record this article at this time, and yes I am recording it by voice, actually in front of a video camera, I am doing more than one thing at one time. I'm producing the content for a written article. I'm producing the content for an audio file and also the content for a video file for my YouTube channel and my blog.
Here's the thing. I could just write an article. Yes, no problem with that. Perhaps I could instead just record a video. Easy to do. But, instead, in my own business, never create content for just one purpose.
Let me explain. Each week in my own business,
I publish to my YouTube channel.
I publish content that my readers, that my viewers and subscribers want to hear about.
It's industry news.
It's topic specific.
It talks about what I do.
It builds trust.
It builds credibility and authority.
These things are most important.
That video also becomes an audio file which I make available to my customers and subscribers also. That audio file becomes a transcript which goes on my blog with the video and also goes out to my subscribers through my newsletter. Remember, all I'm doing here is recording a video. It might take me ten minutes, ten more to produce, and we're done.
If I were to take things one step further, which sometimes I do, if the video I create is based on a slide show presentation, those slides can also be repurposed into content at a workshop, at a seminar, at a keynote presentation, or even online going to SlideShare or other presentation websites. Should I take things yet one moment further again, I can take the bullet points, the essence of the topic of the day, the video which becomes the audio which becomes the transcript which becomes the slides and create an infographic.
The point is this. In today's modern digital world, it's not just your website. It's not just your social media. It's not just your SEO or your newsletter or whatever you've been told by the gurus. It is what you deliver to these platforms through multifaceted repurposed content. It is video. It is audio. It is written material. It is slides. It is PDFs. It is graphics. It is all of these things.
You see, once upon a time, we would build a website and people would come to us. Not so anymore. We must go to them. Where do they hang out? I don't know. For your business, where do they hang out? You need to find out and put your content there.
Do you post a blog to your own website? Fantastic. You must. And, of course, link it throughout the site appropriately from an SEO point of view. But, why not also take the best, most popular blogs and post them into LinkedIn, into their own content management blogging platform?
Why not? Why not create additional content? Why not take your best articles, your best pages, and repurpose them into PDFs and send them out onto document sharing websites? Why not? Not only is that good for you for SEO, but it's good for you for having a wider reach.
It is good for you for providing information.

It is great for your customers for building trust and them seeing you as the authority.
That's what sums it up. Marketing has nothing to do with reality. Marketing is all about perception, the perception of the customer towards us that kicks the goal. Are we trustworthy? Do we provide the information that they want, that they need, that they seek? If we do, they will come to us, they will stay with us, and our business will grow. Food for thought, don't you think?
Here's my goal for you for this week. Have a look at your own business, your own website. Look at the content that you're currently producing or not and you could be. Ask yourself this,
"What could I do, how could I make this better, how could my time be more effective?"
If you need to get help, get it. It's easy to do. It's also easy not to do. There lies the problem. You decide success or failure.