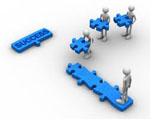 Everybody is freaking out in the SEO (search engine optimization) world because Google keeps updating the way they rank websites. Okay, maybe not everybody, but most of the people that used short cuts to gain rankings have dropped off the map and are scrambling to figure out how to gain their ranking back. First, it was the Google Panda updates and now it's the Google Penguin update causing all these issues. Is it Google's fault, or should those using SEO stop trying to cheat the system?
There are ways to get your traffic back and to avoid ever being slapped by Google again. You can also put together a strategy that will gain you better ranking on Yahoo and Bing, which can help even out your traffic portfolio for the longevity of your company. Here are three strategies to gain your ranking back.
Gain Search Engine Traffic with These Three Strategies
1. Onsite Content
The first strategy you MUST implement involves the content on your pages and posts. You want to follow a few specific guidelines to ensure you don't over optimize your content and you gain all the advantages from it. Make sure you provide quality content that your visitors can use. Don't just put up content that contains specific keyword phrases.
Your main keyword should only have a density of 1% to 2% on the entire page. This includes your meta tags, images, and anything else that will affect the overall density. There are free tools you can use to check keyword density. You also want to make sure you provide at least 800 words if you want to gain the best possible ranking from Google, Yahoo, and Bing. For the right density you want to limit the usage of your keyword. For example, if your keyword is Classic Mustang parts, you only want to use it about once every 200 words or so to get the right density.
2. Link Building
One of the major issues many sites found was the way they built links dropped them in the Google rankings. Google used to reward sites just because they had a ton of links coming to their site from other places. Now, you need a balanced and natural link profile including high PR links and lower quality links. You need links from authority sites in your niche and other blogs on similar topics.
The main thing the search engines look for is whether or not it makes sense that a site would link to yours or not. For example, if you run a blog about Mustang parts, does it make sense that a blog about planning a wedding would link to you? Instead of just building any links you can get, work on getting links from sites in your industry.
3. Building Your own Blog Network
A very popular strategy, that no longer works is using a blog network like Build My Rank, to gain high PR backlinks. Now, you have to build your own blog network and it should include domains of your own and web 2.0 properties. This will help bring some balance to your link profile and will give you higher quality links that are built in a natural way.
If you want to succeed with SEO, you need to adjust and stop trying to take short cuts. There will probably be some new method that will pop up guaranteeing you first page ranking again, but it probably won't last. Those already providing high quality content and building links in a natural way didn't drop in the ranking like those using automated tools, low quality content and links from irrelevant websites.
This post was written by guest blogger Shane who likes to blog about many things, especially internet marketing and using Classic Mustang parts for a restoration project.