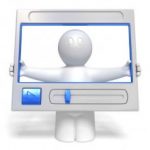 You took the time to put the video together and now no one is watching it is. That can be very disappointing! If you are wondering why more people aren't watching it and what you can do about it, read on.
Use a Video as a Video Response – This is a highly under used tool that can really help to bring people to your video. Think about what someone might type in if they were looking for a video that is similar to yours. Then go to the YouTube search box type it in. For example, let's say you have a video on search engine optimization.
You want potential viewers to be able to find your video, so try different keywords, to see if similar videos come up. Go to the first video that appears in your search and send a video response. If the first video doesn't have their video set up to automatically, accept a video response, move down to the next video until you find someone who wants video responses and accepts them automatically.
On Your Own Video Check Off the Box for Video Responses – You want others to do exactly the same thing and use your video for video responses, but you don't want to have to oversee it all the time. If you want to have the most views just uncheck the box, and requests will automatically be accepted. Consider it an honor when someone gives any type of video response to your video.
Comment Actively – Think of the promotion of your video as being a bit like running for student president. Silence will not get you elected. You are going to have to shake hands, engage potential voters, etc. The same goes with your video – you will want to comment on other people's videos, engage diplomatically with other video posters, and respond cordially to post on your own video. Make sure you are not spamming in an effort to tactfully promote your video and enjoy the benefits.
For example, you can't be saying, "hey go to xyz.com, but you can say something like, "hey I was talking about the same thing in my video just this week." Viewers aren't stupid. They will see your comment, and if they are interested, click on your name to get to your video.
Remember the Importance of Proper Tags – At the bottom of every video you are allowed to put in your tags. You need to put in a very good video description and tags that are relevant to enjoy the full benefits. Google owns YouTube, and Google depends on this information (tags and description) in order to put your video into the search engines. Whatever you do, don't just put tags that will draw in viewers because they are popular searches right now. Rather you should use honest tags. People will become annoyed if you are using tags that aren't relevant. You should also make sure your tags are timeless – in other words, they will be as relevant a year from now as they are today. You should make sure your tags are honest, genuine, and timeless.
Engage Your Viewer – Give your viewers something to talk about and get it organically. Whether it's what you are wearing, whether it's something that gives a shock and awe value, whether it's about something you said, you always need to present what you are doing in a manner that you can engage the viewer and that will keep them interested in what you have to show.
Think Outside the Traditional YouTube Box – Your video doesn't have to die a slow death on YouTube or any of the other video sites. Why aren't you promoting your video on Facebook, MySpace, Twitter, etc? Don't upload the actual video. Just place a link to the video site. That will generate new and valid traffic to your video.
Daniel Guidotti is full time blogger who blogs at www.capcredit.com. Finance, technology and Internet Marketing are his areas of expertise.