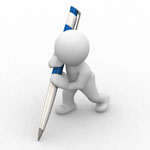 Curiosity is well known to be the primary cause of feline fatality. I think it might have seen a few writers off this mortal coil as well. As a writer and a cat owner I've seen this particular character flaw in operation on many an occasion. Thankfully, cats have been provided by evolution with nine lives; it seems, considering the number of scrapes I've found myself in from time to time, I may share those genes. Curiosity is fatal, but it's a useful tool in not only creative writing but SEO writing and in business. My cats and I are not alone, most people are curious and this fact is one that can help you enhance your website and can be particularly useful on a business blog.
Careful Blogging
Recently there's been some talk that blogging for business has used up at least eight and a half of its lives. It's rumoured to be teetering with just the one claw on the edge of the same precipice that article marketing fell down last year. This may be self interest, but I reckon that the death of blogging has been prematurely announced. Blogging, done in the right way, can continue to be a huge asset for businesses. Despite the final push dealt to article marketing last year it may still not quite have flat-lined either. Used carefully both techniques can continue to help with both SEO and, more importantly, with engaging your potential customers.
Fast Paced Changes
Things move fast in the world of the internet, it's a new technology and has perhaps not yet found its feet. Traditional media industries, of the TV and print kind, are still struggling to catch up in this latest media revolution. Media and PR industry publications are continually reporting two things; the decline in advertising revenues in both TV and the print media sectors and the rise in internet advertising revenues. Both article marketing and bloggging for business have been part of this rapid, if uncertain, learning period for new and old marketing professionals. Nobody is sure what works. At the moment many believe that tweeting their hearts out like a crazed sparrow is the way forward. It's probably not, but it may well be part of a developing recipe for SEO and marketing success. Articles, blogs, Twitter are all still being tested by marketing firms to maximise their potential, and to get the right combination of marketing methods in this brave new world.
Relevant Information
Now, back to me, my cats and I. (Plus several billion internet users.)Yes, we're a curious bunch and often it's the periphery of things that catches our attention. Sometimes the background to an advertising shot is more interesting than the foreground. The foreground will contain the desirable item that the advertiser wants you to buy. The rest of the image is just a setting to make us buy into a perfect lifestyle. I like the backgrounds to advert and in internet terms this is always to be found on a blog. Most users actually click on the link to the blog as soon as they arrive on a site. Blogs can be movies, they can be images or they can be words. The important bit is to make sure they aren't about your products. Obviously it needs to be relevant; a site selling notebooks for train-spotters will not benefit from a blog about high fashion and vice versa.
New Life in Old Articles?
In the old days before TV and the internet were invented there was a thing called the advertorial. These do still exist and appear in glossy magazines, local rags and free newspapers. The advertorial is the grand-daddy of internet article marketing and is basically the same format. Advertorials have survived several centuries and there is no reason that article marketing won't see something of a recovery. Google's Panda update and the following tweaks to it were designed to remove spammy articles written by individuals to whom minimum wage meant a couple of peanuts. Today's articles are rapidly improving in quality which means they can still be a valuable tool to promote any business.
Same Old Story
To some extent it seems that as technology changes we will need to constantly find new ways to market our businesses successfully, but this doesn't mean we should drop old ways too quickly. Blogs are the industry magazines of the past, article marketing the advertorial and twitter the modern equivalent of word of mouth. While the technology changes, perhaps the techniques stay more the same than you might think.
The copywriting and marketing industry are evolving at a fast pace as the internet and technology changes rapidly. However, it seems that while technology changes, techniques may remain the same.