25 Jan

Two different approaches to search engine marketing….

They are –

On-page SEO and Off-page SEO

Once upon a time we built websites, submitted them to search engines and waited for people to come to us. These days we build websites and the people wait for us to take them to them!
Keys to on-page SEO
(These are the areas that need to be reviewed and improved).
How does your website compare to your competition??
# of Indexed Pages
Current Traffic Sources
Backlinks
Keyword Research & Analysis.
How does your keyword analysis compare?
Review Competitors
Google Keyword Tool
How well are your keywords placed on page?
Keyword Placement on Website Page(s)
Title Tag
Meta Description
H1 Tag
In First Paragraph of Content
Anchor Text
Keys to off-page SEO
(These are the areas that need to be reviewed and improved. This is the most time consuming part of search engine optimisation).
Article Marketing.
We need to write related articles for your business and and submit then to…
EzineArticles
Go Articles
…submit to other article directories
Social Media
We need to create accounts and promote to…
Facebook
Twitter
Hub Pages
Squidoo
…submit to other Social Media websites
Social Bookmarking
We need to create accounts and bookmark your content to…
Mixx
Stumble Upon
…submit to other social bookmarking websites
Additional Blogs / Websites
We need to look at creating accounts and submit blog entries to…
Blogger
WordPress.org
Linked In
Typepad
…submit blog entries to other blog directories
Forum Marketing
We need to look at opportunities to post answers to questions on…
Yahoo Answers
Relevant Forums for Your Business
Video Marketing
We need to look at creating videos & submitting them to…
YouTube
Google Video
…submit to other Video marketing websites
Audio Marketing
We need to look at creating audio files from your videos & submitting them to…
Podcast Directory
Podcast Alley
…submit to other Podcast / Audio directories
Review Site Marketing
We should look at create a system of encouraging positive customer reviews…
Yelp.com
Merchant Circle
Google Places
Press Release Marketing
We should also publish press releases (great for backlinks)…
WebWire
Free Press Release services
Subtopic
RSS Feed Directories
We can make RSS feeds from your content and submit them to…
FeedAge
…submit to other RSS directories
Directories Marketing
We need to claim your business listing at…
Google Places
Yahoo, & Bing
Additional Business Listing Directories
etc.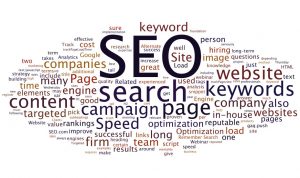 Search engine optimisation is not an overnight job…
And anyone who tells you otherwise is lying to your face! Hmmm, that's a bit harsh… maybe I should say "gently trying to persuade you to part with your money so they can take their Bali holiday…!"
You get the point 🙂
The good thing is that you don't have to do the whole thing all in one go – that stuff listed above is the $7,000 6-month package. It's for what I call TOTAL SEARCH ENGINE DOMINATION.
For the moment though… the most important thing is that you get a health checkup for your website! Because if people are not finding you, it could be from one of *many* different reasons… not just SEO.
=============================
Note: I now offer a monthly back-linking service for internet businesses. You can read the full details on my web design / web development website PaulBarrs.com.au
– Paul.