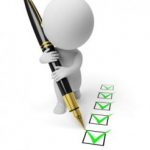 While it's the writing of the content itself that instantly stands out as the most important task involved in constructing and submitting a guest blog post, editing and formatting are also crucial elements, transforming boring, run of the mill text into exciting web copy just itching to be consumed by masses of readers.
A nifty article is one thing, a properly formatted masterpiece made for web publication is another. Use our infographic and this simple outline of three easy steps that you can take to ensure that your guest blog post submission is successful from article acceptance to published product.
1. Use Reader-Friendly Content Formatting
As both writer and editor of your guest blog post, it's up to you to construct your article in the most reader-friendly way possible. Use impeccable sentence and paragraph structuring and implement headings and sub-headings to make your article not only informative, but fun and easy to read as well. Given that your readers will continue to have access to nearly limitless content on a daily basis, the enjoyment factor of those consuming your content will go a very long way towards determining whether they pay you a personal visit.
2. Format Your Article in Well-Written HTML
HTML is a simple but effective language for formatting textual content for the web and you should utilize it to its fullest extent. From simple paragraph tags to image effects and captions, even writers without a solid knowledge of HTML can learn to improve their web formatting with minimal research via the countless HTML resources to be found online.
3. Use Unique, Eye-Catching Imagery
Nothing accentuates beautifully flowing text like unique pictures, graphics and screenshots when they are applicable. Without going overboard, integrate high quality (and legally obtained) graphics to make your article catch the eyes of readers before they've consumed even a word.
Today's guest post quality assurance flow chart is courtesy of My Blog Guest, the community of guest bloggers that preaches "quality" approach to guest posting.
Enjoy!